Article by Bruce Cheaney
Preparing leather to be hand tooled and carved is very important because with just a little practice you can have some amazing results if you case your leather properly.  Lets say you have you leather project cut out and ready to cut in a design a very important step is casing the leather so it will cut with swivel knife.  The thicker the leather the more it will need to be cased the thinner the quicker it will be ready.  If the leather is to wet you can use a hair dryer to bring out some of the moisture so it can be carved.
This tip is for beginners if you tool and carved your leather when it is to wet the design that you put in will pull out as it dries and will tend to have a washed out look.  This is where practice will come in the more you do this the  easier tooling and carving leather will become and you will develop a feel for casing your leather craft project.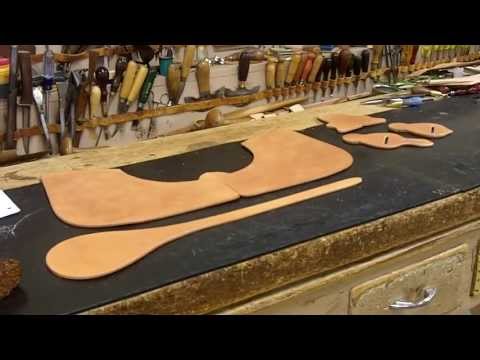 Leather working tips on how to case your leather so it can be tooled and carved.
The leather tool used for carving the leather is called a swivel knife.  This swivel knife is made by Barry King Tools and features a 1/4″ hollow ground blade and is a very good choice for leather crafters.
There are several brands of leather that tool and carve good and the leather used here is tanned by Hermann Oak Leather Company St Louis Missouri.
The Leather Factory also has several grades of leather that tools and carves good and colors out well for a nice finished product.
Another Leather Company worth mentioning is the Thoroughbred Leather Company in Louisville, Kentucky if you live in that neck of the woods you might check them out.
You can make your own leather designs with just a few simple leather working tools such as those of Craftool and the Higher end tools of Barry King.