Carving Leather freehand design with Bruce Cheaney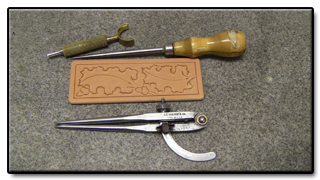 This leather carving tutorial shows you how to freehand draw your own oak leaf and acorn pattern onto a piece of Hermann Oak saddle skirting with step by step details with Bruce Cheaney. This is something you can have fun as well as hone your skills as a leathercrafter and learn how to fill a space with a leather design.
The tools used for this leather carving tutorial are a pair of C.S. Osborne 6″ dividers for marking the border and a vintage saddlers awl for scratching and drawing the design onto leather.